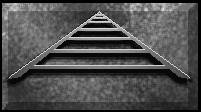 PATHS FROM THE REALM






This is a collection of links that I think are worth sharing. Rifts or Palladium related links are in the Palladium section, here.



RPG.net
If you're even vaguely interested in gaming, this place is Mecca. Of course, I advise pilgrimages on a much more regular basis. Can't advise it enough; check out this place.

Lothlorien
Fantasy and Science Fiction amateur artwork. There are some talented people here. Take some time and flip through.

Palladium Books
Another great company, the makers of Rifts (and many, many other games, too). Includes cool stuff like artwork from upcoming work (and Palladium has some of the best artists going).

FASA
One of the best gaming companies out there, and a damn nice webpage to boot. Shadowrun is going to take on a greater emphasis in the Realm as time goes on.

The Shadowrun Supplemental
This is a great little e-zine. Most gaming companies wished they had this kind of quality coverage. The last word for the Shadowrun afficionado.

My Sister's Page
Well, you've been warned. Venture in there at your own risk.

Rifts Linx contains rifts related links aplenty. Check it out.



See the Help section for details on contributions and more.