OPTIONAL PLAYER CHARACTER RACES

Arcadian (optional PC)
Arcadians are elf-like creatures with several unique features of anatomy. Although broadly humanoid, Arcadians have four arms, elongated legs jointed backwards as a cat's, with large claws, a long semi-hensile tail, sharply pointed ears and three fingers and a thumb on each hand. Skin tones are prevalently golden to dark bronze with white hair, although some phenotypes feature blonde or even blonde-brown hair, which is always silken and extremely fast growing and thus worn very long. Eye colour is uniformly amber. Overall height is 6' to 6'9", weight 120 to 145 pounds, although due to long legs their torso, arms and head are slightly smaller than would be expected, leading to most people assuming Arcadians are shorter than they are in person.
Arcadians are an intelligent race, although not particularily artistically inclined; their areas of specialty include mathematics and economics. Arcadians are strong, particularily for their body size, lacking in large-mass muscle groups; unsuited to brief and strenuous activity, Arcadian musculature is instead built towards endurance and precision of activity, similar to human gymnasts. Arcadians have a particular ability at running, both in speed and distance, having a bizarre leg muscle arrangement and thin, delicate bone structure to maximise speed and a tail which some theorize originally evolved to stabilize and maneuver running Arcadians, sort of like a biological aerileron.
Due to their societal predilictions, Arcadians largely occupy a managerial function in life, overseeing the operation and regulation of the economic empire which provides for them. Some Arcadians choose to scorn this life and take up daring occupations, participating in the games or joining an Assassin order. Whatever their station in life, however, the desire to make money has been so firmly ingrained in them that it is always a priority. In the Arcadian mind, wealth and well-being are all but inseperable, and poverty is often used as a synonym for death. However, individual Arcadians tend to be personable and charismatic, and their racial character includes many positive elements including courage, daring, ambition and a total lack of any care for race (to an Arcadian, everyone is a potential source of money; there is no such thing as racism among the Arcadians).
IQ: 4d6 ME: 3d6 MA: 3d6+4 PS: 3d6 PP: 5d6 PE: 2d6+10 PB: 2d6+10 Spd: 1d6x10 +30, 30 SDC.
Abilities: Arcadians can run at top speed for a number of hours equal to their PE without tiring. Due to their multiple arms, Arcadians have +1 attack. +30% bonus for any mathematically based skills. 40% of Arcadians can see into the infrared in addition to normal colour vision. Hearing is twice as acute as human, providing +1 to initiative. Base Skills: All Arcadians have Basic Math, Language & Literacy: Arcadian 98% and two others of choice at 90%. Arcadians will never submit to bionic or cybernetic enhancement, nor MOM or Juicer modification. Potential O.C.C.s include Gilded Claw Assassin, Admin, any Scholar/ Adventurer (except wilderness scout and Vagabond), or any magic user. Tends toward highly skilled and prestigious occupations, especially those which are either financially lucritive or particularily dangerous.

Greian (NPC)


Greians appear, at first glance, to be highly evolved humans. The head is extremely swollen to allow for a massive brain. Eyes and facial features are smaller than usual, the nose and lips almost totally gone. Greians have no hair and their skin tone is extremely pale. The arms and legs are withered and useless, forcing Greians to travel by means of an antigravity chair. Reproduction would seem to be physically impossible, leading some to assume genetic technologies are employed.
In character, Greians are enigmatic. They are extremely intelligent and have a wide and diverse technical knowledge but are reclusive and want as little to do with outsiders as possible. Nothing is known of the Greian homeworld, which they defend with the fruits of their technology, or of their social structure. Greians appearing as NPCs in campaigns would be a rare occurence, but it could happen, in which case their alien perspective and ambivalence towards most features of Arcadian existence would make them very different than most other characters. Greians communicate telepathically and seem to know all languages.

Davan (optional PC)


Davan are humans, as described in the Rifts roleplaying game. When first contacted the Davans were moving towards atomic power. In the time since, the Arcadians have provided the Davans with enhanced technical knowledge to the point that they are roughly equal with the New German Republic on Earth, with an emphasis on domestic technology, and somewhat lacking in military power. The Davans are totally dependent on the Arcadians for economic vitality and power supplies, but profit greatly from the arrangement. Davans are the only non-Arcadians allowed to operate the mechanisms of wealth on Arcadia. The natural Davan language is English, with minor variations (-15% for someone speaking American trying to speak Davan, and vice versa). Davans can be any O.C.C. or R.C.C. that regular humans can be, although magic is not very prevalent.


ARCADIAN O.C.C.s


Listed O.C.C.'s: Inquisitor, E.R.F. Trooper, Cartel Hitman, Cartel Hacker, Gilded Claw Assassin, Knight of Midnight, Sonic Magi.
Greian Borg O.C.C.: Identical to the conventional Borg O.C.C. in Rifts, save that the body style is chosen from the types listed below. This creates a powerful character and so should only be selected with G.M. consent.
Other O.C.C.'s from other books that fit in well or are common/native: Any Magic O.C.C., Headhunters, Borgs, City Rats, most Psychic R.C.C.s. In addition, Arcadia has a transient population numbering into the billions, and as such any race or class presented in any Rifts or other Palladium book can be easily incorporated into the mix. Indeed, pilots from Robotech or Macross II environments often feature prominently in Games concerning races or mecha combat, and a True Atlantean once held the title for Single Combat for a remarkable two years three months. Indeed, of the five Noble Houses, three are non-Arcadian immigrants, and two of them are previous Game Champions.
Experience Tables
Inquisitor -- use Cyber-Knight Table
E.R.F. Trooper -- use CS RPA elite
Cartel Hitman/Hacker -- use City Rat
Gilded Claw Assassin -- use Glitter Boy
Knight of Midnight -- use Hatchling Dragon
Sonic Mage -- use Ley Line Walker
Greian Borg -- use Glitter Boy
HARDWARE

WEAPONRY:
Knights of Midnight Runeclaws (Knights of Midnight only): These rune weapons are usually black or dark purple in colour and, like all rune weapons, inscribed with runes across their surfaces. Runeclaws are Lesser Rune Weapons as detailed in Rifts Atlantis. Anyone damaged by Runeclaws must make a -3 save vs Insanity or any damage suffered heals at one-quarter the normal rate. Damage is 1d4x10 M.D.C. Note: Knight Runeclaws are cybernetic in nature. Each of the rune blades is anchored to a cybernetic mount, allowing them to retract into the user's forearms in a manner similar to vibroclaws. Note that only the blades themselves are Rune Magic; the mounts and housing implants are ordinary cybernetics.
KP-111 Sonic Pistol: The Arcadian technologies rely heavily on sound. The Sonic Weapon operate by producing intense waves of sound, disrupting their targets on a cellular level. Producing no recoil and no audible sound when fired, they are in great demand in zero-gravity environments. 200' range, +1 to hit, 4d6 MDC damage. Uses 15-shot E-Clips. All sonic weapons deal double damage underwater but are ineffective in a vacuum, as there is nothing to perpetuate the wave.
KP-112 Sonic Rifle: A larger version of the KP-111. 500' range, 6d6 MDC damage. 30 shot E-clips.
KP-120XL Heavy Sonic Cannon: This weapon is often mounted on vehicles or carried by powered armour troops. Requires a PS of 18 to use. 1200' range, 1d6x10 damage per 10-round burst, 200 round E-Canister (20 bursts). A single burst deals 3d6 MDC.
KP-121C Automated Sonic Defense Cannon: Similar to the Heavy Sonic Cannon, the KP-121C can be programmed to defend a specific area, or to hunt specific targets (such as Knights of Midnight, or Humans), propelling itself with antigravity lifters. The artificial intelligence has a 92% probability of successfully identifying given targets if there is some doubt (such as finding a True Atlantean when told to hunt Humans). Can be used by individuals, in which case a hand-held targeter is included, the weapon hovering alongside the user and firing at designated targets. 1500' range, +2 to hit when using a hand targeter. 1d6x10 +10 damage per 10-round burst. Includes a 300 round E-Canister drum.
KP-124 Sonic Sword: Operating on the same principles as ranged Sonic weapons, the Sonic close combat weapons emit high frequency ultrasonic pulses on impact to inflict severe wounds and even crack open certain kinds of armour. 3d6 MDC damage.
KP-125 Sonic Dagger: 2d6 MDC damage.
KP-126 Sonic Claws: 2d6+5 MDC damage.
KP-127 Sonic Spear: 4d6 MDC damage, but -2 to parry.
KP-129 Burnclaws: The rapidly vibrating blade of this weapon rapidly heats up, burning as much as it cuts. 4d6 MDC damage, but the weapon is -2 to strike, due to discomfort and difficulty in hitting the opponent and not accidentally burning yourself.
KP-131 Macel Brace: This device can be added onto any existing SDC projectile weapon (pistols, machine guns, rifles, shotguns, etc). Once the round has been normally accelerated by the detonation of chemical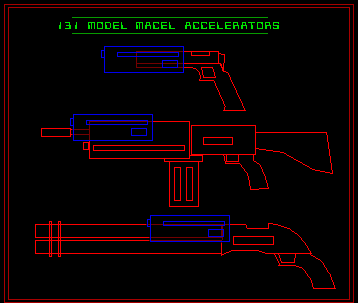 propellant, the Macel Brace kicks in. Macel is a contraction of Magnetic Acceleration; the addition pulls the moving projectiles forward with incredible velocity. This addition can be quickly added or removed from any known projectile weapon. Any such weapon fitted with a Macel Brace deals an amount of M.D.C. damage equal to its previous S.D.C. damage. The Macel Brace is widely available and highly prized, particularily among the transient mercenary population, who enjoy the kick, loud sound and smoke of a rifle or shotgun melded with lethal M.D.C. force. These weapons can still fire silver bullets, in which case the original amount of H.P. damage dealt to Vampires, Lycanthropes and other vulnerable creatures is unchanged.
KV-148 Sonic Grenade: 50' radius, dealing 4d6 MDC damage.
KV-149 Pulse Grenade: Everyone within a 25' radius of the detonation point of this grenade must pass a -2 ME check or is knocked unconscious for 4d6 minutes.
KV-151 Stun Grenade: As with the Pulse Grenade, save that the radius of detonation is increased to 100'. Much more difficult to find, Stun Grenades are ostensibly restricted to ERF squads, but the black market usually has some.
KV-155 Rift Grenade Extremely Rare, Exorbitantly Expensive and Incredibly Cool: A bizarre and terrifying TW weapon, Rift Grenades are hideously expensive and ultra-rare. When thrown, they detonate to open a rift to a random location. The exact details of how the weapon can open a rift without a present leyline nexus is unknown, but some magi theorize that it opens a rift at the closest nexus and then opens a secondary gate to project it to the detonation point. However it operates, there is a 50% chance that something nasty will crawl out (GM's, be creative). In addition, this weapon can be devastating if, say, thrown in the path of a rapidly moving vehicle. Note: the secrets of making Rift Grenades are kept quiet by the Arcadians. They aren't very mystically oriented, and when they are they tend to deal with sound, so it is a mystery as to how they came up with them. However they do it, Rift Grenades are always in high demand and should never be commonly available.





VEHICLES

Chariot
The Chariot is the favourite of the Arcadian games. In shape, Chariots look like the ancient Roman model, but without wheels or horses. Chariots operate on antigravity generators and are steered by the pilot shifting his weight as he stands. They are very difficult to fly, very fast and easy to produce.
Crew: One pilot. As many as three passengers could fit in a Chariot in a pinch.
Maximum Speed: 560 mph on an open track.
Engine: Fusion.
Range: Unlimited, but the power system must rest for two hours every twenty four.
Length: 9'3"
M.D.C.: 65
Black Market Cost: 5,000 credits.
Shockwave Gravcar
The Shockwave is used largely in the auto racing Games. Among experienced drivers, it is the mount of choice, although many pilots prefer more exotic alien models from across the Megaverse.
Crew: One pilot. Up to 2 others could squeeze into the front seat.
Maximum Speed: 450 mph.
Engine: Fusion Cell.
Range: The Fusion Cell needs to be replaced every 45-60 days. New cells cost 140 credits. Some Shockwaves have been modified to use the Fusion generator from Chariots.
M.D.C.: Main Body -- 85, Grav Panels (underside) -- 55.
Black Market Cost: 55,000 credits. 120,000+ for Shockwaves with Chariot Fusion systems and added armour (+35 M.D.C., both locations).
KA-47 Starlance Helicopter
Looking like nothing so much as a locust with rotors, the Starlance is a large, heavy, massively armoured behemoth. This is no doubt due to the fact that, in the Games, ramming your opponent is a standard strategy, even for helicopters.
Crew: One pilot. A second seat is provided for a navigator, but is rarely used for weight and speed concerns.
Maximum Speed: 410 mph.
Engine: Fusion.
Range: Unlimited, but the power system must rest for two hours every twenty four.
M.D.C.: Main Body -- 245, Rotors -- 140, Wing Pylons (2) -- 65 each, Tail Section -- 200, Pilot's Compartment -- 140.
Black Market Cost: 2.5 million credits.
KA-59 Venom VTOL Fighter
The Venom is a highly maneuverable, and more importantly, fast aircraft. Arcadian jet racetracks often cover massive areas and speed is of the essence.
Crew: One pilot.
Maximum Speed: Mach 5. Maneuvering (ie around the turns) drops the speed to roughly Mach 2.5.
Engine: Fusion.
Range: Unlimited, but the power system must rest for two hours every twenty four.
M.D.C.: Main Body -- 200, Wings (2) -- 145, Tail V-Section -- 130.
Black Market Cost: 5 million credits.


A note about weapons: None of the above vehicles mount weapons due to the restrictions concerning vehicle mounted weapons in the Games. Retrofitting of weapons for military applications is common, and pretty much any vehicle mounted weapon in any Rifts supplement can be found and adapted -- for a price.

ARMOUR:

KT-90 Davan Suppressor

Human sized, the Davan Suppressor is a smaller and less powerful cousin to the KT-96. The Davan Suppressor is basically similar save that it has two arms and human-style legs, and is not a powered vehicle, but a heavy armour. The armour is totally environmental and features the Suppression System.
M.D.C.:110
Weight: 85 pounds
Excellent mobility, no prowl penalty (the armour has motor systems to make up for its heavy weight).
Black Market Cost: 145,000 credits.
Note: the Davan Suppressor carries the Arcadian Suppression System (see the KT-96, below). As such it is itself shielded against the effects of the Suppression System. For this reason possession of the KT-90 by non-E.R.F. personnel is highly restricted.
KR-91 Infiltrator
The KR-91 is a highly advanced personal armour system designed for stealth operations. Critics claim that the KR-91 was designed specifically to appeal to organizations like the Gilded Claw. Extremely light and featuring many features which decent law-abiding people have no business desiring, the Infiltrator is one of the more popular Arcadian armour suits.
M.D.C.: 45
Weight: 8 pounds
The armour provides a +15% bonus to prowl attempts, due to sound muffling systems. In addition the hands and feet feature ArcoCling grapples, providing excellent traction on most kinds of metals and stone, offering +20% to Climb these substances.
Black Market Cost: 100,000 credits and on up.
Special Features: includes Garotte, 60' climb cord, secret compartments for hiding up to two pistol-sized objects, ArcoCling grapples, sound muffling, thermal and motion visual imaging and full environmentalism. However, the suit is rarely used in an environmental manner, due to the excellent Arcadian hearing; it is felt that discarding the helmet and relying on one's own senses is a better option.
KR-92 Hard Armour
Unabashedly directed at the Gaming and mercenary fields, KR-92 Armour is large, rugged and dependable.
M.D.C.: 105
Weight: 35 pounds
Poor stealth qualities; -15% to prowl.
Innate weapons equipment includes built-in Sonic Claws in either forearm.
Fully environmental.


POWER ARMOUR: KT-96 Suppressor


The KT-96 is a highly powered and very dangerous armour vehicle designed specifically for use with the E.R.F. The Suppressor mounts the Arcadian Suppression System, a unique and terrifying crowd control weapon, designed to quickly and efficiently disable large numbers of people without lasting physical injury (dead men generate no wealth). Due to its specific use, the KT-96 is prohibited from general use on Arcadia. Anyone caught in possession of one is liberated of whatever financial assets they may have and removed from Arcadia. As this usually results in being tossed through the closest Rift, sans armour, most people take the Arcadians seriously. There is, however, a signifigant underground operation to move Suppressors to other dimensions, and so it is not beyond the realm of possibility for KT-96's to spring up as far away as Atlantis or Wormwood.

Note that the Suppressor System is extremely advanced and alien. Generally, after 1d4 months away from Arcadia, it becomes likely that the Suppressor System will malfunction, requiring a return to Arcadia to effect repairs.

Note that the KT-96 has four arms. Both the KT-96 and the K-3 Eviscerator have an Arcadian-style leg configuration.

Model Type: KT-96 Suppressor
Class: E.R.F. Intrusion Response/Crowd Control
Crew: One pilot
M.D.C. by location:
Head - 220
Hands (4) - 50
Suppression System (mounted on back) - 400 Arms (4) - 160
Legs (2) - 230 each
Main Body - 455
Reinforced Pilot's Compartment - 105

Speed - The KT-96 can manage 120 mph over clear country. Automated motion systems allow long term travel without tiring the user. The vehicle is extremely maneuverable and can easily leap 100 feet, double with a running start. Indeed, KT-96's usually deploy by dropping into danger from the conduit system filling the ceilings; crawling hand over hand in power armour is a daunting task, but the KT-96 is maneuverable enough to make the task simple.

Statistical Data
Height: 8'5"
Width: 4'6"
Length: 4'
Weight: 0.8 tons fully armed
Physical Strength: P.S. 50
Cargo: The KT-96 has roughly 6"x6"x6" for cargo space.
Power System: Fusion. Average life given hard use is 130 years.
Black Market Cost: The KT-96 is not available on Arcadia. Elsewhere, it may cost up to 35 million, easily triple if the Suppression System is still functioning.

Weapon Systems
Shock Staff: The Shock Staff is a long staff-like weapon which glows faintly when it impacts. The Staff has two settings. The first deals 1d6x10 +20 M.D.C on impact, and is used when the Suppressors are deployed to destroy a large or menacing creature which has Rifted in. The second will short circuit robot vehicles or power armour unless the pilot can roll under a 12 on 1d20 for robots or an 8 for power armour. Once short circuited the armour collapses and will require minor repairs to the power system before it can move again. If used on unarmoured personnel in mode 2, the staff deals 4d6 S.D.C. damage and impacts on the victim's nervous system in a manner identical to a Neural Mace.
Punchblades: Each of the four arms mounts blades in the forearms which extend for combat. These blades deal 1d4x10+10 M.D.C. in combat.
Hand to Hand: The KT-96 is exremely maneuverable, offering +3 to Initiative and +3 to strike, parry and dodge.
Arcadian Suppression System: When activated, the Suppression System releases stunning levels of blinding flashing light, ultrasonic frequencies and electrical fields designed to disable and debilitate. If there is an active Suppression System within 50', a given individual (in robot vehicles or otherwise) suffers -9 to initiative, and -7 to strike, parry or dodge. Any skills are performed at -45% penalties. Every minute the affected figure must take a save vs Insanity or loose consciousness for 2d6 hours. This save has a penalty of the number of active Suppression Systems within 50'. As E.R.F. teams usually operate in squads of 20, this can mean saves of -9 to -15 for any given individual. Anyone affected by Suppression Systems will have an intense ringing headache, disorientation and confusion for 1d6 hours later (2d6 hours after revival if the individual lost consciousness). This weapon system is the raison d'etre of the E.R.F. teams, and has ended more riots before they began than can be counted. The Arcadians count it among their finest inventions.
K-3 Eviscerator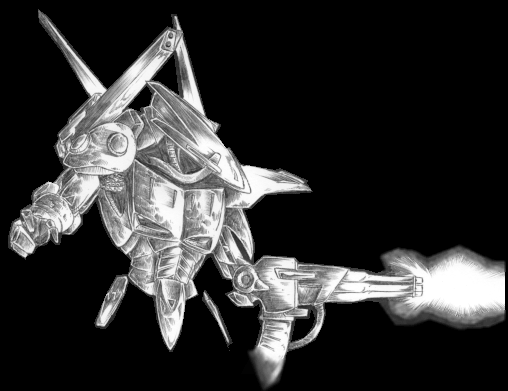 Affectionatelly referred to as the "Munchkin Masher", the K-3 Eviscerator is a synthesis of Greian EvTech technical expertise and the martial experience of the Arcadian Games. Whileas the KT-96 is a dedicated E.R.F. peacekeeping armour, the K-3 is entirely designed for Gaming, and by extension, military applications.
The Eviscerator falls into an obscure category, along with the USA-G10 Glitter Boy, of power armour suits which are too powerful to be power armour suits. Eviscerators commonly engage and destroy larger robot vehicles. Due to their intended role as a Gaming mount, the K-3 is armed with a variety of armaments for different combat situations. However, this same versatility has made it a prime choice for military markets, and several armies feature the K-3 to devastating effect.

Model Type: K-3 Eviscerator
Class: Power Armour Assault Vehicle
Crew: One pilot
M.D.C. by location:
Head - 280
Hand - 80
Projection Vanes (2, rising over the shoulders) - 75 (small target)
Arm - Hand 220
Arm - Cannon 300
Legs (2) - 400 each
Main Body - 675
Reinforced Pilot's Compartment - 125

Speed - The K-3 can manage 100 mph over clear country. Automated motion systems allow long term travel without tiring the user. The vehicle is extremely maneuverable and can easily leap 50 feet, double with a running start, although the K-3 cannot fly.

Statistical Data
Height: 12'
Width: 5'6" (including shield on cannon arm shoulder)
Length: 5'
Weight: 1.3 tons fully armed
Physical Strength: P.S. 60
Cargo: The K-3 has roughly 6"x6"x6" for cargo space.
Power System: Fusion. Average life given hard use is 130 years.
Black Market Cost: The K-3 is a rare and expensive piece of equipment. At least 45 million or higher.

Weapon Systems
K-6700 Cyclical Storm Cannon (1): Mounted in the left arm, the Storm Cannon is an impressive weapon. Operating with phased particle technology, the Storm Cannon draws its power supply from the Power Armour's own Fusion reactor, and so cannot exhaust its ammunition. The K-6700 is useful against a variety of targets. MDC: 2d6x10 per burst. The K-6700 can only fire bursts, due to the nature of its technology (once the particle stream is phased, it must be released very quickly). Range: 5,000 feet max. Payload: Unlimited.
K-5501 Missile Launcher (1): The Missile Launcher is carried over one shoulder, folding back with the missiles pointed upright when not in use. This weapon system is limited in ammunition and usually employed to quickly level the odds if the Eviscerator is outnumbered. Stats are as per missile type; the K-5501 launcher carries 2 Long Range missiles. The missile launcher requires roughly 3-5 hours to reload in the field and requires the presence of a second power armour or robot vehicle (the K-3 cannot reload itself; designed for Game events, this was not seen as a signifigant drawback).
K-10101 Scythe Laser (1): This weapon is a small secondary weapon, mounted in the head. It is low powered but considered an acceptable secondary defense. MDC: 3d6 per single shot, 5d6 per 3-round burst. Range: 300 feet. Payload: Unlimited.
Ripper Field Projector (1): this weapon system utilizes the vanes which rise above the K-3's shoulders. When used, it saturates the local environment with rapidly shifting gravitational stresses, pulling in countless capricious directions with hundreds of G's of force. When used, it automatically strikes everything in a 50' area. Individuals who are in body armour will suffer 1d6x10 S.D.C. damage; those in robots or power armour are protected. Further, anything in the area is pulled from its feet, loosing the initiative and half their melee attacks. If the area is filled with loose objects these will deal 1d6 M.D.C. damage as they strike those in the field (-4 to dodge such objects). The Ripper Field does not have ammunition to exhaust, but once activated it requires 30 minutes for the generators to recharge.
Hand to Hand Combat. +2 to initiative, +1 to strike and parry.
Impact Field: The K-3 projects a forcefield about itself, offering impediment to projectile weapons. This field offers an extra 120 M.D.C. which regenerates 1d4x10 M.D.C. per 4 hours. This extra M.D.C. is only applicable to projectile weapons, including cannon, rail guns and missiles. Energy weapons pass through unimpeded. It is theorized by some that this field was added to increase the odds of a K-3 defeating a Glitter Boy in single combat; in truth, this is unlikely, as the Arcadians have little experience with the USA-G10 armour (the only known GB to take part in the games was an Orbital GB-5, which suffered heavily from the nuclear multi- warhead missiles of its K-3 opponent).

EVOLUTIONARY TECHNOLOGIES (EVTECH)
Evolutionary Technologies, or EvTech, is the company administered by the Arcadians to distribute Greian technological advances. It is generally accepted that these marvels are only a fraction of what the Greians have at their disposal, but that very fact is what keeps anyone from trying to go in search of more. This insurance of their privacy is precisely why the Greians agreed to the entire arrangement.
Greian technology is incredibly advanced, beyond anything available on Earth or Phase World, surpassing even the Kittani; it is more on a par with the knowledge of those who created the Machine People of Phase World. The devices are all self-contained and cannot be opened to examine, extract or repair. All Greian devices repair and maintain themselves, recovering any lost M.D.C. at a rate of 1d6x10 per hour. Most of their systems, such as the components of the Survivor Borg, baffle the scientists of the known Multiverse; most such scientists cannot even grasp the principles of their design, let alone the intricacies of their creation.
EvTech designs include bionic weapons and complete bionic body designs. The designs listed can be selected as the body for a Borg O.C.C. character from the basic game, in which case he would most likely follow the rules described above for native Arcadian humans. EvTech Borgs are rare since the technology is in high demand; even the likes of the Splugorth and the Naruni are left by the wayside when EvTech products become available.

A note on cost: as these bionic components are so rare, the seller can choose to charge whatever they wish. Prices up to millions of credits are common. See Rifts World Book 2: Atlantis, and specifically the sections on the city of Splynn and the markets therein, for details on alternate payment plans including servitude and bartering.)

WEAPONS -- all of these devices are included in EvTech Borg body designs and can also be occasionally found for implantation in existing Borg body types, or as cybernetic weapons into flesh and blood bodies.


Phaseblades: Taking the form of long blades anchored to the inside of the forearm, Phaseblades operate by a curious application of Phase technology. These weapons fall under W.P. Sword and automatically penetrate all armour. Against S.D.C. targets, they deal 6d6+15 damage; against M.D.C. foes, they inflict 4d6+20 M.D.C.
Cutters: Cutters take the form of circuitry built into the skin of the hands. They are not immediately apparent and when activated produce a glowing golden aura about the fists. As they are not a visible weapon, they are most useful when combined with hand to hand fighting skills. Cutters allow unarmed combat damage to be dealt as M.D.C. with a +15 damage bonus (ie a 1d6 S.D.C. punch becomes a 1d6+15 M.D.C. blow).
Razortips: Razortips are small blades that protrude from the fingertips. Razortips are extremely hard to detect when retracted. In combat they deal 3d6 M.D.C. damage.
Shardfield: A monumental headache for the E.R.F. teams, Shardfields are similar to Cutters in that they do not seem to be present. When activated a Shardfield wraps the user in a golden aura, deflecting aside blows. This field provides its user a Leap Dodge, allowing them to attempt to dodge incoming attacks without using up a melee attack. All leap dodge attempts have a +4 bonus.
Globgun: Globguns fire from hidden ports in the palm. Unless they are actually firing, the palm looks and feels completely normal. Globguns fire masses of sticky plastic which impede motion and incapacitate their targets. Anyone hit by a Globgun must roll under their P.S. on 5d6 or they are truly mired, and can take no further part in combat. This does not apply to beings with Supernatural Strength of 25 or higher, who can simply pull their way free. The chemicals break down in 1d6+3 hours or with the application of a special solvent.
Razorgun: Similar to Globguns, save that these weapons fire clouds of razor-sharp shards of metal. Razorguns deal 5d6 +10 M.D.C. and have an effective range of 75', and can attack all targets within a 45 degree arc (roll to hit once with a +5 modifier; a successful roll means that everyone in the 45 degree arc, friend and foe alike, is hit).

EVTECH BIONIC BODY TYPES


All EvTech Borgs have the following features:
Bionic Organs. The EvTech Borg only has to consume 1/10th as much food and water as the average human to maintain health. All EvTech Borgs are full-reconstruction and few biological components remain. Organs includes Bionic Lungs with Rebreathers (see Rifts Japan).
Language Translator
Radio Reciever & Transmitter
Gyro clock/compass
Multi-Optic Eyes
Psionic Electro-magnetic dampers
Universal headjack with amplified hearing and sound filtration
Combat Processors -- These examples of extremely advanced Greian technology are programmed to interpret combat situations and respond, ordering the body into defensive postures and actions faster than the Borg's mind can react. These Processors provide +2 to Initiative
Piranha Aquaborg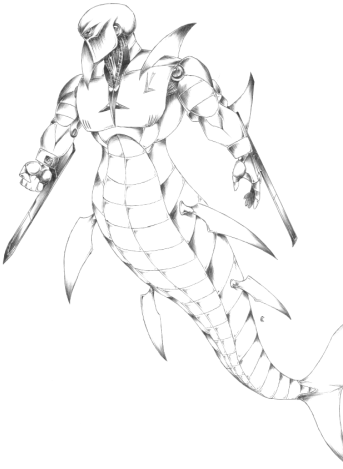 The Piranha is typical of the EvTech bionic body styles. This radical design is totally adapted to aquatic life, although the borg can survive and function in a limited manner on land. From the waist down, the Piranha is fishlike, with a lower body, long tail, and four fins.
M.D.C. by Location:
Hands(2) - 20 each
Arms(2) - 70
Phaseblades (2) - 15
Fins (4) - 25
Upper Body - 295 plus any Borg armour
Lower Body - 345
Tail - 75
Head - 100
Speed: 220 mph underwater. Note that, at this speed, maneuverability is virtually nil and anything within a thousand square miles knows exatly where you are due to phenomenal cavitation. As such, practical motion is limited to 60 or 70 mph. Limited to a Spd of 8 on land. Crush Depth is 4 miles.
Total Length: 14'
Phsyical Attributes: P.S. 35, P.P. 24
Weapons
Retractable Phaseblades: built into the forearms. See details above.
The Borg has human arms and can carry any Rail Gun or other Borg weapon. Aquatic Triax equipment is the preferred choice.
Falcon Aeroborg
The Falcon is a small, light Borg body style adapted to aeronautical motion. Large silver wing membranes are anchored to the back, which combine antigravity propulsion systems with the borg's small stature to produce an incredibly fast and maneuverable Borg.
M.D.C. by Location:
Hands(2) - 20 each
Arms(2) - 50
Phaseblades (2) - 15
Legs (2) - 75
Upper Body - 195 plus any Borg armour
Wings (2) - 120
Head - 80
Speed: The Falcon can fly at speeds of Mach 4 with unlimited radius, save that the agrav generators require two hours of rest every 24 hours of steady use.
Height: 5'
Phsyical Attributes: P.S. 35, P.P. 24, Spd. 125
Weapons
Retractable Phaseblades: built into the forearms. See details above.
The Borg has human arms and can carry any Rail Gun or other Borg weapon. Light energy rifles are preferred; Rail guns are made less desirable by the extra weight of ammunition and power supplies, which can slow flight speed by hundreds of miles per hour.
Missile Launchers: the Falcon carries concealed Medium Range missile launchers under the anchor points of its wings. These weapons fire up over the shoulders, and have a storage capacity of 4 missiles each for a total of 8.
The Falcon Aeroborg, due to its extreme maneuverability, gains a bonus of a further +1 to Initiative and +2 to Leap Dodge (a Leap Dodge is similar to a normal dodge save that it does not take up a melee action).
Golden Dragon Monster Borg
The Golden Dragon is an extremely nonhuman body style, reminiscent of the Dragon Borgs of the Japanese Republic. In style it resembles a classical western dragon, complete with wings. In battle the monstrous form is incredibly deadly and easily capable of engaging and destroying several normal Borgs.
The Golden Dragon body has a delitirious effect on the user's mind. Every six months after the body is acquired, the user must save vs insanity or develop and egotistical god complex. Most Golden Dragons are mentally unstable.
M.D.C. by Location:
Arms(2) - 220
Legs (2) - 320
Main Body - 1225 *The Golden Dragon cannot wear conventional Borg armour
Head - 250
Tail - 350
Wings (2) - 475
Scatterfire Cannon (2, mounted over the shoulders) - 520
Speed: 35 mph on land, up to 250 mph in the air.
Total Length: 36'
Phsyical Attributes: P.S. 55, P.P. 24
Weapons
Claws: These impressive weapons deal 1d4x10 +25 M.D.C. in close combat.
Scatterfire Cannon: Mounted in long tubular canisters over the shoulders, Scatterfire Cannon function by releasing broad arcs of energized plasma. They drain tremendous amounts of power when they fire, but the agonizing searing effect on its targets is considered well worth it. Range: 500' max. Damage: 2d6x10+35 M.D.C. Bonuses: +3 to strike. One roll to strike is made against all targets in a 50' radius area. Payload: Unlimited. However, power drain ensures that this weapon can only be used once per combat round.
Plasma Breath: Firing from the gaping maw of the golden plated dragon, this weapon is very reminiscent of the capabilities of the supernatural beast it mimics. Range: 100' Damage: 1d4x10 M.D.C., plus the plasma will ignite flammable objects. Payload: Unlimited (Plasma is a form of energy, not an incendiary liquid).
Nightheart Psychborg
The Nightheart is the most sinister of the EvTech body designs. Humanoid, the Nightheart is jet black in colour, scuplted into leering skulls and jagged spikes. Supplementing this appearance is a Psych Field, an insidious device to undermine the morale of its opponents, driving fear into their hearts like an icy spear.
M.D.C. by Location:
Hands(2) - 20 each
Arms(2) - 80
Phaseblades (2) - 15
Legs (2) - 105
Upper Body - 300 plus any Borg armour
Head - 100
Height: 9'8"
Phsyical Attributes: P.S. 35, P.P. 24, Spd. 125
Weapons
Retractable Phaseblades: built into the forearms. See details above.
The Borg has human arms and can carry any Rail Gun or other Borg weapon. Heavy rail guns are the preferred choice. Psych Field: When the Field is activated, the Nightheart gains a Horror Factor of 18. In addition, any opponents within 50' suffer -3 to strike, parry or dodge.
Survivor Borg
The Survivor is the classic example of what EvTech is all about. Rare, highly desired, and incredibly advanced, the Survivor utilizes nanotechnology to incorporate elements of its environment into itself. Although it does not have as much M.D.C. as other EvTech body designs, or even as much as Terran borgs, the Survivor can adapt to its environment, heal quickly, and survive.
M.D.C. by Location:
Hands(2) - 20 each
Arms(2) - 50
Phaseblades (2) - 15
Legs (2) - 80
Upper Body - 235 plus any Borg armour
Head - 90
Height: 5'8"
Phsyical Attributes: P.S. 35, P.P. 24, Spd. 125
Weapons
Retractable Phaseblades: built into the forearms. See details above.
The Borg has human arms and can carry any Rail Gun or other Borg weapon. Heavy rail guns are the preferred choice.
Special Feature: Nanotech Adaption System. The Survivor Borg heals lost M.D.C. at a rate of 2d6x10 M.D.C. per ten minutes. Further, it can incorporate technological devices into itself. For example, if a Survivor defeated an opponent who carried a plasma rifle, the Survivor could cut a gash into its left forearm with one Phaseblade and jam the plasma rifle into the gap. After ten minutes, the healing systems will have sealed the gash over, and linked the plasma weapon into the Survivor borg's nervous network. The weapon is now a piece of the Survivor, and can be fired by mental command like any other implanted weapon. If an arm is severed, the Borg can retrieve a similiarly sized limb from another borg, or a powered armour suit or robot vehicle, and push it into the stump, and the healing system will incorporate the new limb into the borg's body. Alternatively, the Survivor can replace his lost limb with a heavy rail gun, forming a weapon arm similar to that of the K-3. More impressive still, if the Borg comes into contact with a Nightheart, or a KT-96, it can incorporate the Psych Field or Supression System into its own body. This ability makes the Survivor a frightening opponent in war; even if the body is destroyed, and taken down to 120 M.D.C. beyond what is required to destroy it, it can still slowly regenerate its M.D.C. until it is fully rebuilt (when the M.D.C. has reached its original totals, of course provided that material is available, even if that material is the torn and scorched remains of its body). It is never easy to kill a Survivor Borg, and tales of those who tried and failed only to feel the regenerated Borg's revenge are legendary on Arcadia.
GM's, the Survivor Borg makes one powerful character. Use restraint; if you allow them for your player group, take steps to ensure the character doesn't dominate. On the other hand, a lone Survivor Borg stalking the player group, to be (they think) destroyed time and again only to return again and again at the worst possible time can be a fantastic element in a campaign. (As the players who playtested Arcadia can attest.)






NEW SKILLS



Pilot: Pilot Chariot -- this skill provides an ability to pilot the agrav chariots which are unique to Arcadia. Although it has little application outside of Arcadia, Chariot Racing is one of the more popular Game styles, and so has money-making potential. 65% +5% per lvl

Rogue: Acquire Contact -- similar to Streetwise, Acquire Contact is a specialized ability to find people who are selling things. Finding contacts can be incredibly important on Arcadia, where anything is available if you know who to ask. 34% +4% per lvl

Rogue: Arcadian Streetwise -- This Streetwise skill is identical to the regular one save that it deals with the unique environment of the City of Gold. Characters attempting to use normal Streetwise on Arcadia suffer a -25% penalty. Likewise, characters attempting to use Arcadian Streetwise outside of Arcadia suffer a -25% penalty. 55% +5% per lvl

Rogue: VR Hacking -- this skill is similar to normal Hacking save that it includes an understanding of the VR computer networks across Arcadia. 45% +4% per lvl

Note: sooner or later I'll write up a computer combat and interface rules system for Palladium games. Most places on Rifts Earth won't have that kind of computer network, but there are a few (Japan, N.G.R., Chi-Town and Lone Star City would be about it). The places where computer rules would come in handy would be Arcadia and Phase World. When I get them finished, they'll appear on the Realm of Hades page.

Technical: Arcadian Games Law -- a detailed understanding of the specific rules, regulations, restrictions and penalties of the Games. As the Games have fairly lax rules (last one standing wins), this also includes a comprehensive knowledge of how the Games are run, who to bribe, and so forth. 66% +5% per lvl

Technical: Languages. The Lingua Franca of Arcadia is Arcadian, which is very similar to Dragonese (speakers of Dragonese/Elven trying to communicate with Arcadians suffer a -10% penalty to do so, as do Arcadians trying to speak Dragonese/Elven). The Humans of Arcadia speak Spanish, and roughly half speak English; Greian is a completely unique language, unrelated to any others, and must be taken as a seperate skill. (Greian is also the standard language for technical discussion, as techno-can is in North America.)





Arcadia is a big and dangerous place, with endless potential for Rifts campaigns. I have had a lot of fun writing this page, and a lot of fun play-testing it; enjoy it. Let me know what you think.